Our Rooms
We have six differently sized rooms for hire, plus a commercial kitchen that can be used as a catering area or a bar for functions.
Each space can be used in isolation or in combination with other rooms. For example; the Ellis Maddocks Hall can be hired as one big hall, or sub divided by a floating wall into two (Ellis) or (Maddocks) and the kitchen can be added to the hire.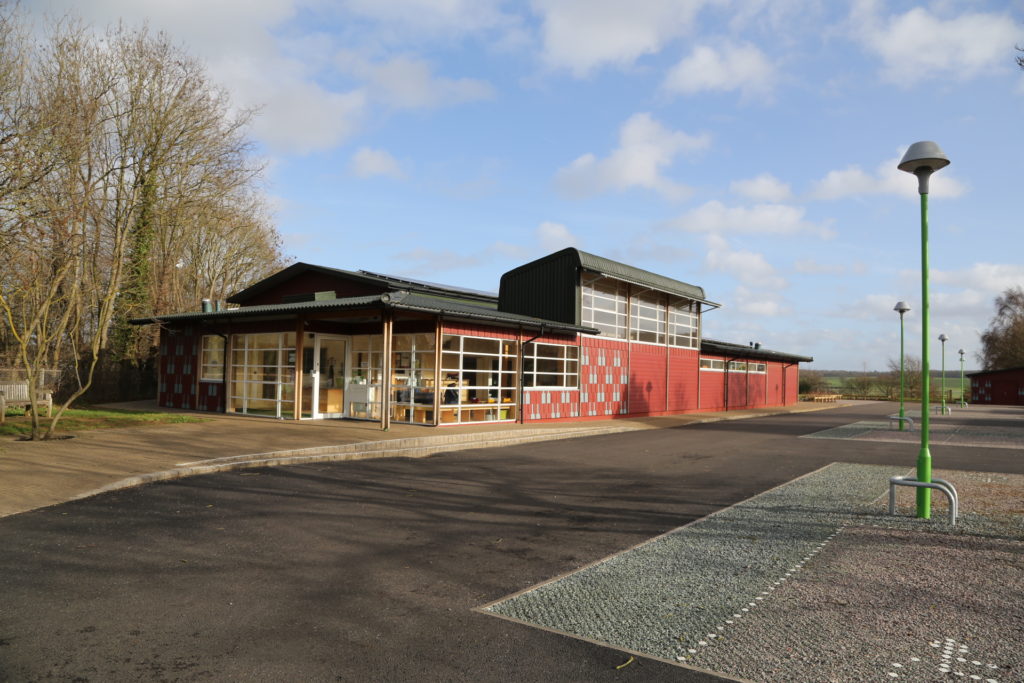 All rooms can be set up however you need them with boardroom, cabaret or theatre seating. We have available a 42-inch flat screen LCD TV display, projector, screen and HDMI connections. There is a hearing loop with additional microphones if required plus high speed free WiFi. Refreshments/Lunches can be organised by prior arrangement.
Choose from any of our rooms below, email us your requirements and we will gladly get back to you with more information and our availability.
manager@gamlingayecohub.org.uk or call Kate or Vikki on 01767 651226
The Ellis Maddocks Hall
(16.5m x 9.5m)
The Ellis Maddocks Hall is the largest space in the Eco Hub, with enough room to accommodate up to 175 people. The hall has been cleverly designed with an acoustic sliding wall – so you can open up the entire space for your conference, party or event, or use the two spaces independently to suit your requirements.
The Mezzanine
(5m x 3m)
Our Mezzanine meeting room is up the stairs just behind the Jack Arnold reception area and is an ideal small, cosy meeting room for up to eight delegates. It's a no-frills, budget friendly kind of space that comes with an oval table and presentation equipment if you require.
The Kingspan Hall
(10.5m x 11.5m)
The Kingspan Hall is square shaped which lends itself to any event. It's a really versatile space that is equally at home when used for a training day or corporate meeting, or for a children's party or family gathering. It also makes a brilliant exercise studio for dance or fitness classes.
The Maddocks Hall
(6.5m x 10.5m)
The Maddocks Hall is one of our most popular spaces – it's the smaller half of the main Ellis-Maddocks hall and can seat about 30 guests or there's room for about 60 standing. Conveniently situated right next to our large professional kitchen and the Jack Arnold community reception area.
The Kier Suite
(7.5m x 8.5m)
Light, bright and completely self-contained, the Kier Suite has everything you need for your meeting, conference, training day, or smaller function or gathering. The room comes with its own kitchenette and toilet facilities and can be accessed via a separate door from the main entrance.
The Ellis Hall
(9.5m x 9.5m)
Our Ellis Hall is the slightly larger half of the main hall (Ellis Maddocks) and has room for 70 people sitting and up to 100 standing. This room benefits from having a double doorway that opens directly onto the communal outside seating area at the back of the Hub.
The Eco Hub
Gamlingay Community Centre,
Stocks Lane, Gamlingay,
Sandy, Bedfordshire,
SG19 3JR